First iPhone 5s and iPhone 5c Teardowns Show Touch ID Home Button, Nearly Identical Internal Layouts
Australian iPhone repair firm iExperts has already gotten its hands on the new iPhone 5s and iPhone 5c models (via TUAW), working to perform teardowns of the two devices to examine their internals. While the company has yet to start digging into the chips on the main logic board, it has been able to reveal a few details about the devices.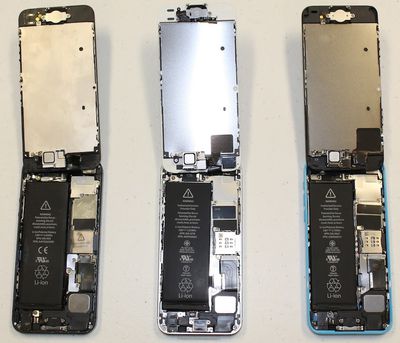 Left to right: iPhone 5, iPhone 5s, iPhone 5c
Unsurprisingly, the internal layouts of the new devices are consistent with that seen in leaked part photos and generally in line with that of the iPhone 5. Battery capacities have increased from 5.45 Whr in the iPhone 5 to 5.92 Whr in the iPhone 5s and 5.73 Whr in the iPhone 5c. That iPhone 5s number is slightly different than what
appeared in regulatory documents
last week but is consistent with what we saw on a
December 2012 prototype
, albeit with a newer part number on the battery.
A direct comparison of the logic boards from the three devices also shows how Apple has slightly narrowed the boards on the new devices compared to the iPhone 5, making room for a slightly larger battery.

Left to right: iPhone 5, iPhone 5s, iPhone 5c
Other tidbits discovered during the teardown include a metal clip holding in the new cable providing a connection for the Touch ID sensor in the home button, as well as a new coating on the power button believed to be designed to increase durability.

iPhone 5s home button flex cable with integrated Touch ID sensor
More information from the new iPhones is undoubtedly forthcoming, with the teardown experts at iFixit also drawing upon their own extensive experience to delve into the details on the various components.