Early Graphics Benchmarks Show Significant Boost for iPhone 5s
Following yesterday's introduction of the iPhone 5s, a new GFXbench result showing partial graphic benchmarking results has appeared revealing significant improvements compared to the iPhone 5 on the Egypt HD 2.5 test (via @nerdtalker and @anexanhume).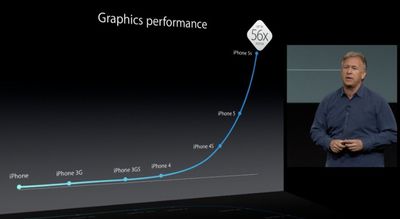 A comparison between the iPhone 5s and iPhone 5 on the Egypt benchmark show a significant increase in frame rate for the iPhone 5s, with the offscreen 1080p score moving from 29.8 fps to 56.0 fps and the onscreen score improving from 41.1 fps to 53.0 fps.

Comparison of iPhone 5s and iPhone 5 graphics benchmarks for Egypt HD 2.5 test
Certainly there are some caveats associated with the benchmark given that it includes only a single test and a need for developers to optimize their apps for the new 64-bit A7 architecture with support for OpenGL ES version 3.0 in the iPhone 5s will undoubtedly yield differing levels of improvement in real-world situations. Still, based on this single snapshot it appears the graphics performance will indeed see a significant improvement in the new device.