VMware Fusion 6 Brings Updated Virtualization Support for OS X Mavericks and Windows 8.1
Following last week's introduction of Parallels Desktop 9, VMware has announced the launch its new VMware Fusion 6 virtualization software, adding support for OS X Mavericks and Windows 8.1, as well as a number of other new features.
- Designed for Mac OS X Mavericks - Extend the unique features of Mavericks to a Windows environment, such as taking full advantage of every display connected to a Mac with multiple display support and enhanced dictation support in Windows applications.

- Ready for Windows 8.1 - Get the most out of Windows 8.1 by running Windows Store applications side-by-side with Mac applications. With VMware Fusion 6, users can access Windows Store applications in Launchpad or the Applications folder and put them in the Dock in Unity mode.

- Optimized for the Latest Macs - VMware Fusion 6 is optimized for the latest Macs taking advantage of Intel's latest Haswell processors for even better battery life and even faster performance when running Windows applications.

- Create the Most Powerful Virtual Machines - Create virtual machines with support for up to 16 vCPUs, 8 TB virtual disks, and up to 64 GB of memory to run the most demanding Windows applications on a Mac.

- Enhanced User Interface - From its streamlined user experience and improved PC migration assistant, to easier installation of Windows and more granular selection of computer resources, everything has been enhanced to give users an even better way to run Windows on a Mac.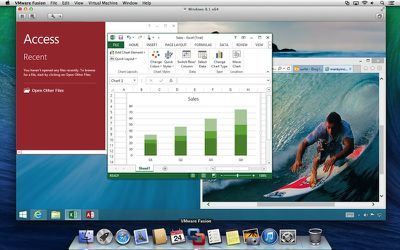 A more advanced VMware Fusion 6 Professional version is also available, adding greater flexibility for restricting and expiring virtual machines, linked clones for easily creating multiple copies of virtual machines, and more.
Available through the VMware Store, VMware Fusion 6 is priced at $59.99 while VMware Fusion 6 Professional is priced at $129.99. Users upgrading from version 4 or 5 can receive discounted pricing of $49.99/$69.99, while any customers who purchased VMware Fusion 5 on or after August 1 can receive a free upgrade to version 6.