Primate Labs has announced on its blog that it has released Geekbench 3 – the first major update to the popular benchmarking service since 2007.
This third iteration of Geekbench features 15 completely new benchmark tests that are designed to mimic real-world processor tasks, such as image and signal processing, encryption, and physics simulation that aim to give a more accurate score of the processing power of computers and mobile devices. The previous benchmark tests imported from Geekbench 2 have also been completely rewritten so that they are now more representative of real-world applications and usage scenarios, again allowing for a more accurate score.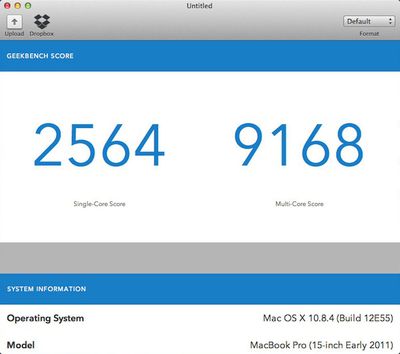 Geekbench 3 features a completely new scoring system whereby users now receive separate single-core and multi-core scores – in previous iterations of the program, the scores were merged together into one. Primate Labs' John Poole explains why this new "splitting" of the scores is important:
While multi-core performance is becoming more relevant as applications are rewritten to take advantage of multi-core processors, single-core performance is still a very important metric because every application benefits from great single-core performance.
The iOS version of Geekbench has also been updated and now features a completely new look that matches the flat interface of iOS 7. There is also Dropbox integration, so results can be shared with anyone without having to go through the Geekbench Browser, and an archive feature so users can easily view previous test results.
Users who purchase Geekbench 3 before August 31 can benefit from the special introductory pricing, which is currently $5 off for a single-platform license ($9.99 instead of $14.99), $10 for a cross-platform license ($14.99 instead of $24.99) which works across OS X, Windows and Linux, and $50 for a professional license ($149.99 instead of $199.99).
A demo version of Geekbench 3 can be downloaded from Primate Labs' website, with separate versions available for both iOS [Direct Link] and Android devices.