According to multiple Twitter reports and a tipster who contacted MacRumors, individual Netflix profiles are now showing up on the Apple TV. The personalized profile feature, which is expected to be launched in August, will allow users of shared Netflix accounts to select a unique profile when accessing the service.
Netflix first debuted its personalized user profiles earlier this year at E3, giving select users beta access to the feature. With personalized profiles, each family member or Netflix user can have a separate profile with customizable avatars, individualized viewing histories, unique content recommendations, and parental control options.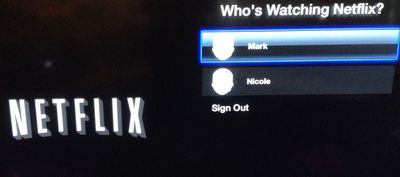 While the feature is not yet available to the general public, the infrastructure has been launched on the Apple TV. According to a Netflix customer service representative, Netflix users who previously set up profiles when using the DVD service will now see those profiles show up on the Apple TV.
Profiles cannot be altered at this time, and additional users cannot be added, but users who already have profiles in place will see the option when opening the Netflix app. Netflix says that the official release will come to all users "later this summer," allowing individual profiles to be set up on the web and then accessed on the Apple TV.
(Thanks, Mark!)