Apple Launches Logic Pro X with Virtual Drummer and Flex Pitch
Apple today announced the launch of Logic Pro X, the next-generation version of its professional audio software. The release brings a completely revamped Logic Pro application including a new virtual drummer and integrated pitch editing, as well as an iPad companion app.
Apple today unveiled Logic Pro X, the most advanced version of Logic Pro to date, featuring a new interface designed for pros, powerful new creative tools for musicians, and an expanded collection of instruments and effects. Logic Pro X includes Drummer, a revolutionary new feature that provides a virtual session player that automatically plays along with your song in a wide variety of drumming styles and techniques, and Flex Pitch, which provides integrated pitch editing for audio recordings. Apple also introduced Logic Remote, an innovative new way to play and control Logic Pro X from your iPad, giving musicians the flexibility to create and mix their music from anywhere in the room.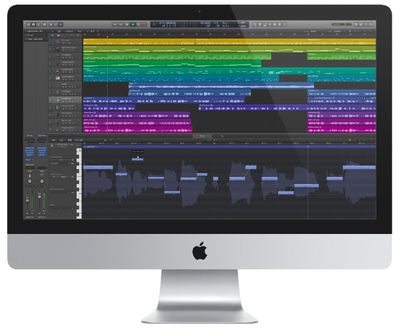 The Loop has a full review of the new software.
Logic Pro X is the best music software release I've seen from Apple in a while. They added a lot of pro features, but at the same time managed to make the app more approachable—that's a difficult thing to do.

Being a guitar player, I would liked to have seen some more attention on Amp Designer—I don't use it much at all because I don't like the amps much—but I can wait for the next release for that.

Overall, Logic Pro X is a great release and for $199, you can't go wrong.
Macworld also has a review of Logic Pro X and Logic Remote.
Logic Pro X [Direct Link] launches in the Mac App Store today for $199.99, with live performance companion app MainStage 3 [Direct Link] priced at $29.99. The Logic Remote companion app for iPad [Direct Link] is available free through the iOS App Store. Apple has also removed the previous versions of Logic Pro and MainStage from the Mac App Store.