Apple Proposes New Multifunction Input Ports, Could Merge SD Card Slot and USB Port
Apple has applied for a patent on a computer port that combines two connectors such as a USB port and a SD card reader according to an application recently published by the U.S. Patent and Trademark Office and noticed by AppleInsider.
The invention, which Apple calls a 'combined input port', adds contact surfaces for multiple different ports. One such example used in the application adds a SD card to the bottom of a standard USB port, with additional cuts to fit the SD card. The combined port could save room on smaller notebooks, and is one potential way for Apple to fit an SD card reader in the 11" MacBook Air.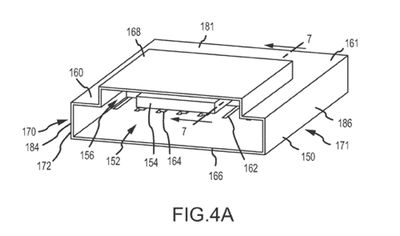 The foregoing description has broad application. For example, while examples disclosed herein may focus on an input port for receiving a USB plug and a SD card, it should be appreciated that the concepts disclosed herein may equally apply to connectors and plugs. Similarly, although the input port may be discussed with respect to a computer, the devices and techniques disclosed herein are equally applicable to any type of device including an external connector for transferring data and/or power. Accordingly, the discussion of any embodiment is meant only to be an example and is not intended to suggest that the scope of the disclosure, including the claims, is limited to these examples.
The patent was originally applied for in December 2011 and is only now getting published. It has not yet been awarded, however.
Apple routinely applies for patents on inventions that never make it to a final product, but this does seem to have a lot of potential for production. For example, Apple could use it such a combined input port to save space on notebooks, adding an additional USB port to the location where the SD card slot currently is.
The company recently released updated MacBook Air models, though they did not receive a substantial redesign. Apple is expected to release updated MacBook Pro with Retina display models in the near future, and such a combined port could make sense on that device, though there are no guarantees that Apple would ever use it.