Facebook Unveils Video on Instagram, Offering 15 Second Clips with Filters and Stabilization
Facebook today hosted a press event at its Menlo Park campus to unveil new video capturing capabilities for image sharing product Instagram, which Facebook acquired back in April of last year.
As expected, Instagram will now support short video uploads, positioning it as a serious competitor for Twitter's Vine, which allows users to capture six seconds of video footage.
To use the new video capabilities, users will tap on the capture button, which adds a new video icon to activate video mode. Holding down on the video icon will allow users to take up to 15 seconds of footage, more than double the time that Vine permits.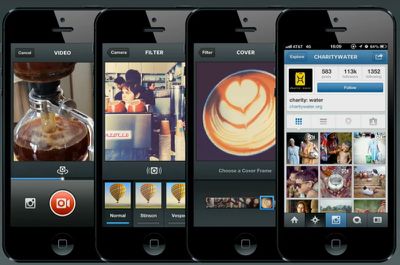 As with Vine, Instagram users can capture collages of video, taking a few seconds of footage at a time before moving on to a different angle or shot. Instagram also includes simple editing tools, allowing users to remove unwanted clips.
In addition to intuitive editing tools, Video for Instagram includes 13 new custom filters that have been specially designed for video plus "Cinema," which is cinematic stabilization for videos that will "change video forever." In an on-stage demonstration, Cinema provided sample videos with a noted improvement in stability, heavily cutting down on motion blur.
Unlike Vine videos, Instagram videos play just once right inside the Instagram feed and do not loop. Videos will have a cover photo and will be displayed alongside photos.
While on stage, Instagram co-founder Kevin Systrom also revealed some usage statistics. Instagram now has 130 million active members that use Instagram every month, and those users have shared more than 16 billion photos. The service also receives more than a billion likes per day.
The newly updated Instagram 4.0 with video is available now on the App Store for free. [Direct Link]