Apple Applies for Patent on Fingerprint Sensor Packaging System
The U.S. Patent and Trademark Office today published an Apple patent application (via AppleInsider) filed in February of this year which addresses a system for packaging fingerprint sensors alongside conductive bezels in a single structure. The bezels deliver a small amount of electrical current to the user's finger, allowing the fingerprint to be read by the sensor.
The present disclosure is related to integrated circuit packaging, and more specifically to methods and apparatus for integrally molding a die and one or more bezel structures, with portions of each exposed or at most thinly covered, for fingerprint sensors and the like. [...]

Traditionally, the bezel and the encapsulated die have each been separate elements, brought together in the process of assembling or packaging the sensor apparatus. That is, the bezel and die are not encapsulated together.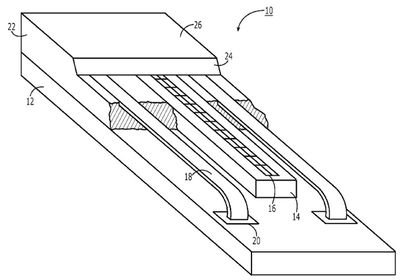 Fingerprint sensor package with sensor die (14/16) and conductive bezels (18)
The patent application goes on to describe some of the issues with previous fingerprint sensor assembly methods:
Current fingerprint sensor structures require a number of discrete assembly steps. As the number of discrete elements and manufacturing steps increase, manufacturing cost increases and the potential for faulty or inaccurate assembly that negatively affects product consistency and yield losses increase. Discrete element sub-assembly is also a more time consuming process than integrated manufacturing. As in the general art of IC production, there is significant, ongoing commercial pressure to reduce cost, number of components, and number and complexity of manufacturing steps, and size of the completed structure.

Furthermore, the separate bezel and encapsulated die structures are often undesirably large final devices. Further still, it is desired that the bezel be as physically close to the sensors as possible to optimize the sensitivity of the sensor.


Cross section of finger on integrated sensor package
While the patent application was filed in February of this year, it actually appears to date much further back, as it is a continuation of a
previous patent application
filed in March 2010 and originally assigned to UPEK, Inc. That company was a 2004
spinoff
of STMicroelectronics' fingerprint biometrics business. UPEK
merged with AuthenTec
in September 2010, and Apple ultimately gained the rights to the intellectual property when it
acquired AuthenTec
last year. Only one of the three inventors on the patent,
Giovanni Gozzini
, continues to work for Apple today.
Apple has been rumored to be adding a fingerprint sensor to its upcoming iPhone 5S as a differentiating feature compared to the iPhone 5. Rumors and speculation about Apple's interest in fingerprint sensor technology have been driven largely by its acquisition of Authentec, although evidence of the company's interest in fingerprint recognition dates back considerably further.