Paperback Version of 'Steve Jobs' Biography Coming September 10 with Younger Jobs on Cover
AllThingsD reports that the paperback version of Walter Isaacson's authorized biography of Steve Jobs will be released on September 10, nearly two years after the book's original release. According to publisher Simon & Schuster, the paperback version will include a new afterword as well as a new cover image showing a young Steve Jobs in the same pose seen with an older Jobs on the original cover.
[N]ew art, taken by Norman Seeff in 1984, should attract a lot of attention. The original striking and simple black-and-white photo of Jobs on the hardcover jacket of "Steve Jobs" — which was taken by Albert Watson in 2006 — showed the legendary tech figure later in his life and was an image Jobs approved. The new one has Jobs in the exact same thumb-on-chin pose, with the exact same intense gaze that he was well known for.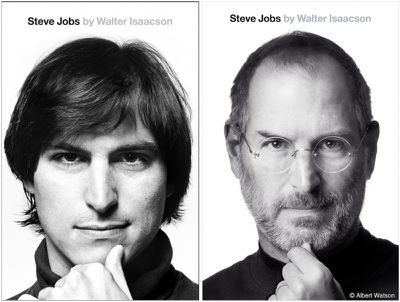 Paperback cover (left) vs. original cover (right)
Amazon currently has a
preliminary page
up for the paperback version, showing a price of $17.99 versus a list price of $20.00. The hardcover version carries a list price of $35.00, but Amazon is
selling it for $17.74
.