Steve Jobs Didn't Want an iBookstore, but the iPad and Eddy Cue Changed His Mind
Testifying in court yesterday as part of the ongoing e-books price fixing trial, Apple senior vice president for Internet Software and Services Eddy Cue offered some perspective on the history of iBooks and the iBookstore, noting that Steve Jobs was initially opposed to such a project. As shared by AllThingsD, Cue noted that it wasn't until just prior to the launch of the iPad that he was able to convince Jobs of the potential of e-books.
"… When I got my first chance to touch the iPad, I became completely convinced that this was a huge opportunity for us to build the best e-reader that the market had ever seen," Cue said. "And so I went to Steve and told him why I thought [the iPad] was going to be a great device for ebooks. … and after some discussions he came back and said, you know, I think you're right. I think this is great, and then he started coming up with ideas himself about what he wanted to do with it and how it would be even better as a reader and store."
Cue had initially suggested an e-book effort earlier in the fall of 2009, but Jobs felt that the iPhone's screen was too small to allow for a good user experience and that the Mac didn't feel like a reading device. By the time Jobs was on board, it was November, and the iPad was scheduled for a January introduction, giving Cue just weeks to line up the deals needed to build the iBookstore.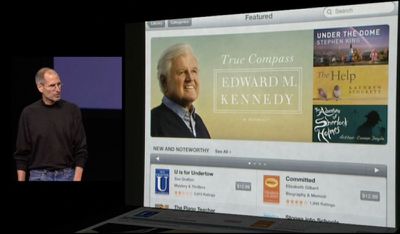 In relating the story, Cue noted that getting the iBookstore deals done took on special significance for him, as it was obvious that Jobs was in declining health at the time. Jobs had taken a strong interest in iBooks for iPad, and was committed to showing it off at the iPad media event, giving Cue extra incentive to make sure everything was in place.