As noted by MacStories, Dropbox yesterday unveiled new beta versions of its desktop clients, bringing several new features to Mac users including a streamlined method for storing and sharing screenshots.
The first one, an automatic screenshot sharing feature, is somewhat reminiscent of tools like Droplr and CloudApp: once enabled in the Preferences, it will allow Dropbox to redirect every screenshot taken on OS X to a /Screenshots folder in your Dropbox, sharing that file and putting a public link in your system clipboard. While not as full-featured as the aforementioned third-party tools, automatic screenshot sharing could indeed make for a nice solution to quickly share screenshots on Twitter and IM — retaining control over files that are simply located in the Finder.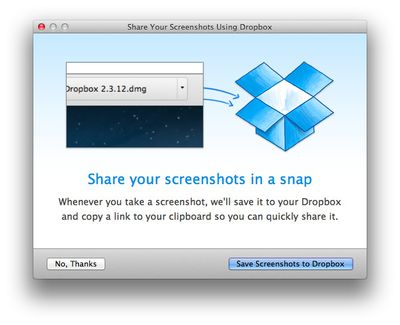 Another new feature is an "Import from iPhoto" option that will allow users to easily see whether they have photos in their iPhoto libraries to upload to Dropbox and create separate Dropbox albums to correspond to iPhoto albums and events.
Finally, the beta brings a new "Move to Dropbox" contextual menu item to make it easier for users to transfer files to Dropbox from elsewhere on their systems.
As MacStories notes, features in Dropbox's beta builds do not always make it into final shipping versions of the software, but the new features in testing are likely to be welcomed additions for many users of the popular file hosting and syncing service.