Apple Close to Finishing WWDC 2013 Decorations
Apple is nearly finished decorating the Moscone Center for WWDC 2013. Work began two days ago with giant Apple logos on the outside of the building, as well as large horizontal and street pole banners.
Spotted on some of the banners inside the Moscone Center is the tagline 'Where A Whole New World's Developing'.
Thanks to MacStories for the imagery.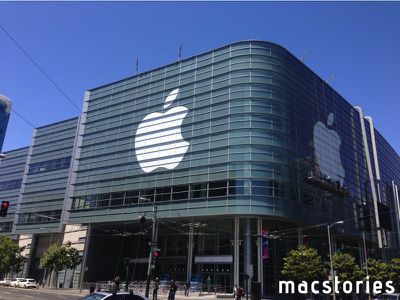 Workers are also preparing the banners that have sometimes been covered with black sheets pre-Keynote in past years.
Update: MacStories has taken a new photo that appears to show a first-floor banner concealed with a white sheet instead of the black sheet that has been seen in prior years.


New this year are banners on the newly renovated Metreon shopping center across the street from Moscone West. The building houses a popular movie theater complex, a newly-added Target store, and a number of restaurants.