Apple may be planning to release the final version of OS X 10.8.4 in the near future, as it today sent out notices to AppleSeed members announcing the closure of the OS X 10.8.4 software update project.
As noted by AppleInsider, participants received a notification stating that weekend infrastructure maintenance requires the company to close existing products.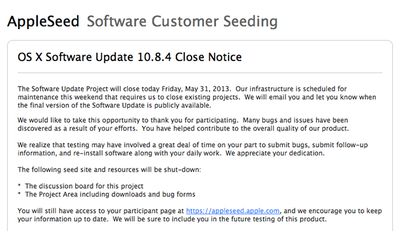 The notice thanks AppleSeed members for participating and notes that an email will be sent out when the final version of the software is publicly available. Apple first released the OS X 10.8.4 beta on April 1st and released eight different builds, ending on build 12E55. Throughout the beta, Apple asked users to focus on Wi-Fi, Graphics Drivers, and Safari.