T-Mobile to Change 'Deceptive' No-Contract Ads, Offer Refunds
Washington state Attorney General Bob Ferguson has ordered T-Mobile to alter its new "Uncarrier" advertising strategy, calling its contract free claims "deceptive."
Alongside the launch of the iPhone 5 earlier this month, T-Mobile rolled out new rate plans, which are designed to separate device costs from service costs. To purchase a device like the iPhone 5, T-Mobile customers make a small downpayment and pay off the rest of the cost over a two-year period, while also paying for a separate service plan.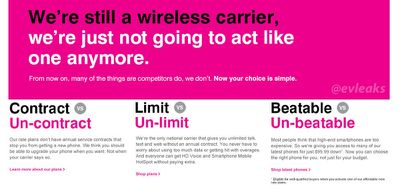 According to Ferguson, T-Mobile has failed to clearly state that while there is no annual contract for T-Mobile subscribers, customers who cease using T-Mobile's service must pay off the remaining cost of the device.
"As Attorney General, my job is to defend consumers, ensure truth in advertising, and make sure all businesses are playing by the rules," Ferguson said. "My office identified that T-Mobile was failing to adequately disclose a critical component of their new plan to consumers, and we acted quickly to stop this practice and protect consumers across the country from harm."
As a result, Ferguson entered into a court ordered agreement with T-Mobile that will require the carrier to explicitly disclose the details of its contract free plans both through its advertisements and with employee training.
T-Mobile cooperated with the Attorney General's Office in signing an Assurance of Discontinuance (AOD) filed in King County Superior Court today. Under the AOD, the company agrees not to:

-Misrepresent consumers' obligations under its contracts, including those contracts that have not restrictions or limitations; and
-Fail to adequately disclose that customers who terminate their T-Mobile wireless service before their device is paid off will have to pay the balance due on the phone at the time of cancellation.
The agreement also requires T-Mobile to offer full refunds to customers who purchased T-Mobile service and equipment between the dates of March 26 and April 25, 2013. Subscribers who purchased phones during this time period can cancel their service plans and receive device refunds without the need to pay the remaining balance on the device.