KGI Securities analyst Ming-Chi Kuo has been one of the most vocal sources claiming that Apple will be including a fingerprint sensor in the iPhone 5S, indicating that Apple's 2012 acquisition of AuthenTec is ready to bear fruit for the company as a differentiating feature for the next iPhone.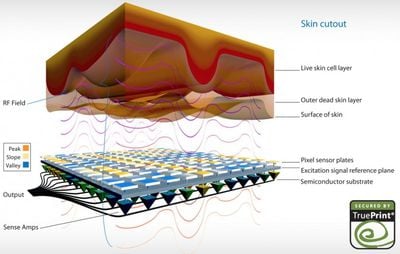 In a new research report, Kuo outlines his belief that in order to limit rival Samsung's involvement in the iOS device supply chain, Apple will turn to a series of Taiwanese companies to support its fingerprint sensor implementation.
Assuming this is the case, we predict a production flow of the fingerprint sensor as follows: Apple (design) –> TSMC (foundry) –> Xintec (wafer-level packaging) –> ASE and Sharp (module).

While there's no question that Apple possesses key fingerprint sensor technology, we also think TSMC is a reasonable foundry choice for Apple as it used to serve AuthenTec. We expect Xintec to make the supply chain on its expertise in wafer-level packaging and TSMC is its largest share holder. However, as it was loss-making in 2012, it's possible Xintec will get capex support from TSMC for the new business.
Kuo is upbeat on the futures of TSMC and ASE, arguing that Apple will continue to forge closer ties with the Taiwanese semiconductor industry. The biggest win for Taiwanese industry would be a shift to TSMC for the A-series chips used in Apple's iOS devices. Apple has long been rumored to be working to shift production of the A-series chips from Samsung to TSMC, with the latest rumors suggesting that move may finally take place with new 20-nanometer A7 chips in early 2014.