Google Play Catching iOS App Store in Download Volume, but iOS Still Dominating Revenue
App Annie today released its latest data on mobile app downloads, finding that continued momentum for Android has allowed the Google Play marketplace to nearly match Apple's App Store in download volume. But while Google Play is making great strides in generating revenue for developers from these downloads, the App Store remains far out in front, indicating that iOS device users in general remain much more willing to pay for content than Android users.
While the iOS App Store and Google Play both had solid gains in app downloads last quarter, Google Play had a higher percentage growth rate as well as a greater gain in absolute downloads. As of Q1 2013, Google Play's app downloads were close to 90% of iOS App Store downloads.

From Q4 2012 to Q1 2013, iOS App Store quarterly revenue grew by roughly one-quarter. Meanwhile, Google Play app revenue grew by roughly 90%. While Google Play had the higher growth rate, the iOS App Store gained more in absolute revenue and earned about 2.6x that of Google Play in Q1.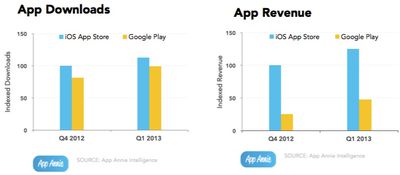 The stark revenue split between Apple and Android was also highlighted in an AllThingsD's interview with MLB.com boss Bob Bowman at the Dive Into Mobile conference yesterday. Bowman noted that while Android is starting to gain some momentum, Apple users continue to represent an outsized share of revenue for Major League Baseball's subscription services.
- His user base, which used to split 80/20 in favor of iOS over Android, has now moved to 70/30. "The Samsung phone is quite a good Android phone," Bowman said.

- But the uptick in Android users, he said, doesn't track with revenue. That still splits 80/20 in favor of iOS users. "Maybe even 85/15."
MLB.com had a significant head start on iOS compared to Android, and Bowman also notes that the lack of low-end iOS devices creates a self-selecting group of users more willing to pay for content.