Apple Reportedly Offering Half of Pandora's Royalty Rate for Streaming Music Service
The New York Post reports that Apple has been seeking to undercut its potential competitors with regard to royalty rates for its rumored streaming music service, currently offering a rate that is just half that paid by Pandora despite rumors that Apple is looking for more flexibility than allowed under the license used by Pandora.
The tech titan, the most valuable company in the world, made an initial offer to the label of about 6 cents per 100 songs streamed, sources said.

That's about half of the 12 cents per 100 songs paid by Pandora, the leading online radio service that Apple is taking aim at, sources said. [...]

By comparison, terrestrial radio-backed online services — such as iHeart — pay about 22 cents per 100 songs streamed.

Subscription service Spotify pays the highest rate for its service, 35 cents per 100 songs streamed, sources said.
The report claims that Apple had hoped to have its so-called "iRadio" service ready for the iPhone 5 launch, but was forced to slow down its timetable due to the difficult content negotiations. Sources indicate that Apple would like to bundle iRadio with the existing iTunes Match service, although iRadio would also be ad-supported.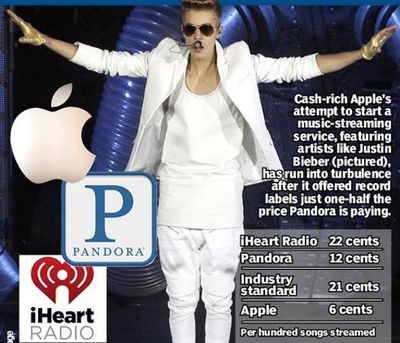 Pandora has been seeking to lower its royalty payments, arguing that the current structure does not allow it to earn a profit on its service. The company has noted that it pays out a much higher percentage of its revenue in royalties than satellite service SiriusXM does, leaving essentially no room for profit once its other costs are accounted for.
Pandora currently takes advantage of a compulsory licensing option that permits it to broadcast any music it wishes without having to strike individual deals with record labels, but license places significant restrictions on content, preventing users from requesting specific songs, rewinding, or skipping more than a handful of songs per hour. Apple is reportedly seeking a much more flexible arrangement for its users, but labels are reluctant to sign on at the rates currently being offered by the company.
Update 10:14 AM: The New York Times reports that Apple's plans are indeed still being delayed due to the ongoing negotiations.
Apple had hoped to introduce the service early this year, but now it is not likely to reach the market until the summer, if not later, according to these people, who spoke on condition of anonymity because the talks were confidential.
Update 1:59 PM: Bloomberg corroborates word of the delay, noting that Apple still intends to launch the service later this year.
Apple Inc. delayed the start of an online radio service to compete with Pandora Media Inc. after talks with music labels stalled, according to four people with knowledge of the situation.

The company still seeks to start the advertising-supported radio service by the end of the year, said the people, who asked for anonymity because the plans haven't been made public.