Other World Computing has begun selling NewerTech's miniStack MAX, an ambitious all-in-one hard drive, Blu-Ray/CD/DVD reader/burner, SD card reader and USB hub in one compact enclosure meant to match the footprint of the Mac mini. There is also a version that reads Blu-Ray discs, but does not write them.
A number of products designed to fit under the Mac mini have been released over the years, but with the addition of Thunderbolt and powerful CPUs, the Mac mini has become a viable option for users looking for an inexpensive and flexible workstation.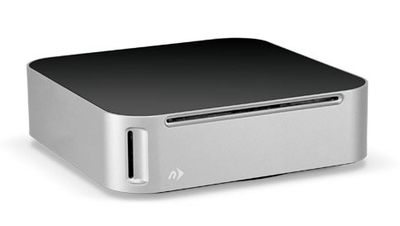 The only four-in-one storage, data access, and connectivity solution available!

The Newer Technology miniStack® MAX puts the diverse functionality of a high-capacity hard drive, Blu-ray/CD/DVD optical drive, SD card reader and USB powered hub into a single elegant aluminum finish enclosure. A perfect compliment for ANY Mac or PC, yet sized to match the footprint of the Mac mini, miniStack MAX offers fully bootable data storage/backup along with three USB ports for powering and charging external devices.
The miniStack MAX includes three options for connecting to the Mac including eSATA, FireWire 800, or two USB 3.0, as well as a separate USB port for charging devices with no data transfer.
It comes in a number of configurations, including versions with a Blu-Ray Reader starting at $150 for a bring-your-own-disk option, 500GB for $260, 1TB for $280, 2TB for $330, 3TB for $400, and 4TB for $530.
Versions with a Blu-Ray Reader/Burner are available for $40 more.