Apple Promotes Self-Published Titles with New 'Breakout Books' Section
Apple today introduced a new section of the iBookstore, featuring books that have been independently author-published to the iBookstore. Entitled "Breakout Books," the curated collection highlights titles that have earned four and five star reviews.

Find the next reading sensation with this hand-picked collection of books from emerging talents. All are independently published directly to the iBookstore and have earned high ratings from customers like you. Check back regularly – new titles are added as they begin taking off.
Apple's content rival Amazon has long promoted books that are published via its Kindle Direct Publishing platform. Apple has carried and highlighted popular self-published books for quite some time, but the new section serves to put the indie titles further into the limelight.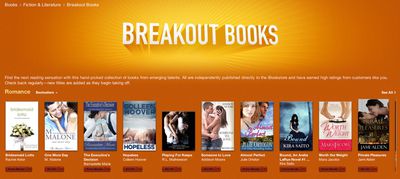 The featured books are organized into four categories: Romance, Sci-Fi & Fantasy, Mysteries & Thrillers, and More to Explore. There are 70 books in the section.
According to The New York Times, price is a major incentive for the promotion, as most of the books in the featured section retail for far below the cost of a traditional publishing house book. The majority of the titles are priced at $6.99 or less, making them more affordable than the average book.
eBook self-publishing and distribution platform Smashwords is where many of the featured titles originated. The site uploads submitted content to Apple, and founder Mark Coker says the relationship has been mutually beneficial, with many titles hitting Apple's best seller lists in a short period of time.
Although the iBookstore has always carried and supported self-published ebooks, today's launch signifies an escalated commitment on the part of Apple, whose iBookstore currently sells books in 50 countries. The iBookstore first piloted the Breakout Books feature in their Australian store and has since implemented similar features in Canada and the U.K.

In the process, Apple is helping to shape a brighter, more democratized future for book publishing. More writers will have the freedom to publish and more readers will have the freedom to discover and enjoy a greater diversity of high-quality books than ever before.
Apple's "Breakout Books" section will remain featured at the top of the iTunes store for two weeks or more, after which it will be removed to a less prominent spot in the iBookstore.