LaCie introduced a pair of high-capacity storage devices at CES today.
The first, the LaCie 5big is a 10 or 20TB external RAID box connected via Thunderbolt. The box includes five drives with multiple RAID options for backup and speed, as well as a pair of Thunderbolt ports for daisy chaining. The box is $2,199 in 20TB configuration, and $1,199 for the 10TB version.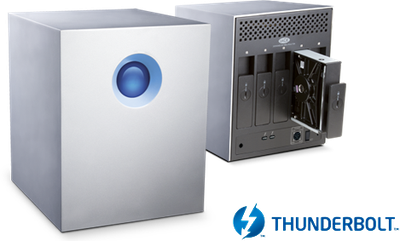 LaCie also introduced the 5big NAS Pro, a gigabit ethernet equipped network storage box available in multiple capacities: 0TB (diskless) for $529, 10TB for $1,199, and 20TB for $2,199.
Today LaCie announced the 5big NAS Pro, its latest high-performance 5-bay network-attached storage solution powered by Intel®. Thanks to hybrid cloud technology, the LaCie 5big NAS Pro lets employees collaborate easily using a single interface for both network/cloud storage and remote access. Plus, data stays secure thanks to novice-friendly SimplyRAID and client-side cloud encryption.

With transfer speeds up to 200MB/s*, the LaCie 5big NAS Pro boosts business productivity. Powered by a dual-core 2.13GHz Intel 64-bit Atom™ processor and 4GB RAM, it also features dual LAN and link aggregation for optimized network speeds. This performance-driven combination accelerates file sharing, remote access, and backups for small businesses.
The 5big Thunderbolt drive is available for order from LaCie today, while LaCie is taking sign ups to be notified when the 5big NAS Pro is available.