Brightcove CEO Envisions His Dream Apple Television and Set-Top Box
In a guest post on AllThingsD, Brightcove founder and CEO Jeremy Allaire offers a thorough look at his ideals for a television initiative from Apple. While Allaire has no direct knowledge of Apple's plans, his perspective gained by leading one of the major online video platforms for mainstream media offers an interesting basis for discussion on what Apple may wish to do.
Allaire describes three "key values" that he expects Apple will bring to consumers with its television initiative: an integrated system for delivering all types of television content including broadcast, video-on-demand, Netflix, and Youtube; the "ultimate game console" leveraging the existing iOS ecosystem; and innovative app experiences enhancing existing App Store apps with dual screens. He argues that Apple will need to offer both integrated television sets and a set-top box in order to make the necessary impact in the market.
To do this, Apple needs a two-pronged strategy:

1. A new companion device for TV that starts at $149, attaches to nearly any existing TV, and does not require customers to buy an expensive new monitor. This is crucial for quickly establishing and maintaining platform dominance quickly and even stand-alone could be a $5-10 billion opportunity.

2. A new family of ultra-thin TV monitors that bundles all of the capabilities of the companion device and includes beefed up computing power. These large-screen monitors will be a direct assault on the global TV monitor industry, a market worth hundreds of billions annually, albeit with slightly slower replacement cycles of four years versus two years for smartphones and tablets. This gives Apple that additional $30 billion+ revenue stream it needs.
The set-top box Allaire envisions a relatively thin bar-like design to sit above or below an existing television, based on an A7 quad-core chip and offering several cameras and sensors, HDMI, Ethernet, Wi-Fi, substantial storage, and Lightning ports for power and a coaxial cable dongle.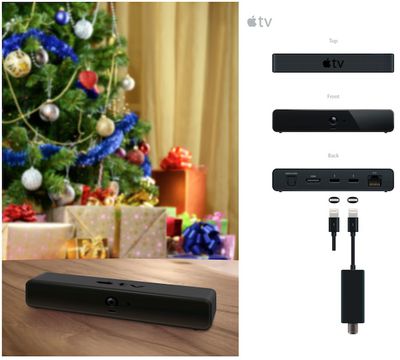 As for the television set itself, Allaire's scenario includes 46-inch and 60-inch models with multiple HDMI ports, an optical audio port, Ethernet, and dual Lightning ports for connectivity. The sets would include onboard storage of either 1 TB and 3 TB, and of course incorporate a high-end display in a package carrying the usual Apple design aesthetic.
Allaire goes on to describe an Apple TV app for iOS that would serve as the hub for interacting with the system, delivering guide information, on-demand libraries, and iTunes Store access to an iPhone or iPad, as well as allowing the device to serve second-screen content while viewing on the television set. Apple would also deliver APIs for third-party input devices such as game controllers, as well as tools for helping delivers create both dedicated apps for the TV and expand their existing iOS apps to address new possibilities opened up by the larger-screen environment.
Allaire's vision is of course entirely speculative and seems to be more of a "wish list" rather than a serious proposal for how Apple will bring cable operators onboard and integrate a host of features into a set-top box starting at $149 or a television set starting at $1499, but some of the proposals offer interesting food for thought about directions Apple could be aiming for.