AllThingsD
is
reporting
that Apple has responded to Samsung's claim that jury foreman Velvin Hogan conducted himself improperly during jury selection for the Samsung v. Apple trial. Hogan is under examination for his failure to disclose a previous legal dispute with Seagate, his former employer and one of Samsung's partners. In November, Judge Lucy Koh said she would
"consider the questions"
of whether Hogan conducted himself improperly.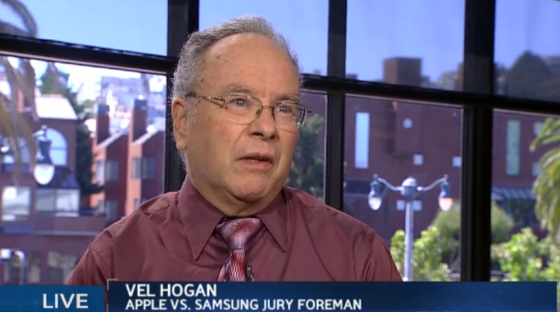 Apple does not accuse juror Velvin Hogan of misconduct — because there was none — so what Apple knew and when regarding Mr. Hogan's lawsuit with Seagate nearly two decades ago is irrelevant to any issue raised by Samsung's post-trial motions. Apple does not contend that any past relationship between Mr. Hogan and Seagate, or any lawsuit between them, is anything remotely close to support a challenge for cause.
Hogan has been one of the more
visible members of the jury
, speaking with a myriad of news organizations about the decision in the case, which concluded earlier this year. The dispute over Hogan's behavior represents one more incident in the
ongoing legal drama
between Apple and Samsung.