Apple Now Selling Unlocked GSM iPhones in the U.S.
Apple has begun selling unlocked GSM iPhone 5 models in the United States, some two months after it originally went on sale. This is similar to the delay that preceded sales of the unlocked iPhone 4S last year.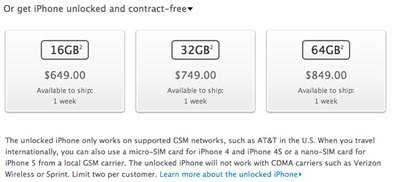 The launch follows the drop of the iPhone 5's estimated shipping times to one week just a few days ago. The unlocked GSM models are available for $649/$749/$849 for the 16/32/64 GB models and also have an estimated ship time of one week. In the U.S., the unlocked models will work on both AT&T and T-Mobile.
The unlocked iPhone includes all the features of iPhone but without a wireless contract commitment. You can activate and use iPhone on the supported GSM wireless network of your choice, such as AT&T in the United States. The unlocked iPhone 4, iPhone 4S and iPhone 5 will not work with CDMA-based carriers such as Verizon Wireless or Sprint.

If you don't want a multiyear service contract, or if you prefer to use a local carrier when traveling abroad, the unlocked iPhone is the best choice. It does not come with a micro-SIM card for iPhone 4 and iPhone 4S, or a nano-SIM card for iPhone 5, so you'll need to get one from any supported GSM carrier worldwide. To start using it, simply insert the card into the slot on your iPhone and turn it on by pressing and holding the On/Off button for a few seconds. Then follow the onscreen instructions to set up your iPhone.