iTunes Digital Gift Cards Now Available Through Facebook
Facebook today announced that it has added iTunes Store digital gift cards to its Facebook Gifts platform, making it easier for users to send iTunes credit to their networks of Facebook friends.
Starting today with Facebook Gifts, you can instantly gift your friends iTunes digital gifts and recommend albums, movies, games, apps, and more available on the iTunes Store.

Search for a specific song or album to recommend, or let your friend decide. iTunes digital gifts are available for $10, $15, $25, or $50.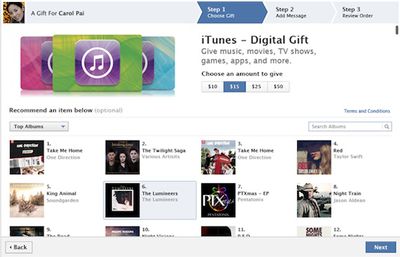 AllThingsD notes that the partnership offers increased visibility for the iTunes Store and gives Facebook a part of what is currently estimated to be a $260 million business in iTunes Store gift cards for third-party retailers.
Per Apple's last 10-K, the company generated $7.5 billion from the iTunes Store during fiscal year 2012. Industry sources say that more than $2 billion of that revenue comes directly from iTunes gift cards. Sources also tell us that existing retailers who sell iTunes gift cards (like Best Buy, Target and the like) usually keep around 13 percent of each gift-card dollar sold.

So that adds up to around, say, a $260 million-dollar market size for physical iTunes cards split among participating retailers, of which Facebook will now be an active participant. That pie is small compared to Facebook's overall revenue ($3.71 billion in 2011), but another digital product with less overhead and high demand is definitely a win for Facebook's Gifts department.
Apple and Facebook have had a bit of a rocky history, with the two companies having sparred over Apple's efforts to offer Facebook integration in its failed Ping social networking service for iTunes. The companies have, however, been working more closely together recently, with systemwide Facebook integration now included in iOS 6 and OS X Mountain Lion.