New iMac and Mac Mini Models to Retain Current Pricing, Add 8 GB RAM Module Options
9to5Mac reports that prices for Apple's new iMac and Mac mini coming next week will be in line with current pricing, almost certainly confirming that the new iMac models will not carry more-expensive Retina displays.
The three Mac mini models will likely be priced at the same $599, $799, and $999 for the two standard models and single server model, respectively.

The new iMacs will also feature similar or same pricing as the current iMacs, but the top 27-inch and 21.5-inch models may feature slightly cheaper pricing in some countries. The current iMacs come in at $1199, $1499, $1699, and $1999 U.S. price points.
The news conflicts with a report from earlier this month claiming that the iMac would be seeing a price increase alongside a thinner form factor.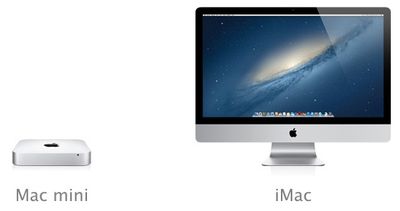 In a separate post, 9to5Mac also reports that Apple will for the first time offer 8 GB RAM module options for the iMac and Mac mini. While third-party RAM vendors have long offered 8 GB modules for Apple's machines, Apple itself has sold only 4 GB modules and thus only listed official support for 16 GB of RAM in the iMac and 8 GB in the Mac mini.
The higher-density modules will allow users to configure Mac mini orders with up to a total 16 GB of RAM in the machine's two RAM slots. The iMac could potentially see up to 32 GB of RAM, although that assumes the machine will continue to offer four slots as on the current models. Considering rumors of a thinner profile, this may or may not be the case.