Chitika: iPhone 5 Passes Samsung Galaxy S III in Web Usage
With millions of units shipped, and demand significantly outstripping supply, the initial launch of the iPhone 5 can probably be described as successful. Ad tracking firm has released some data comparing iPhone 5 mobile ad impressions to those from the Galaxy S III, a popular Android phone released by Samsung.
According to the firm, the three-week old iPhone 5 saw significantly more web traffic than the Galaxy S III, a phone that has been out for months.
Following the release of Apple's iPhone 5 on September 21st, Chitika Insights was interested in comparing the Web usage rates of the newest phones from both manufacturers. To quantify our latest study, we conducted a user agent analysis on millions of mobile ad impressions, spanning a 7-day time frame from October 3rd through October 9th, 2012. Looking solely at impressions coming from the iPhone 5 and Galaxy S III, we were able to observe the difference in Web traffic volume between the two devices, depicted in the figure below: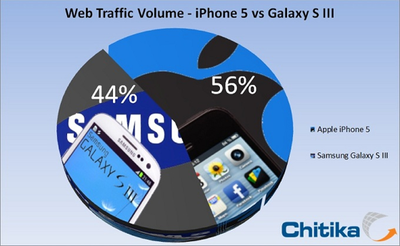 Another study, this time from 451 Research/ChangeWave Research, found that one third of North American consumers were "somewhat" or "very" likely to purchase the iPhone 5, a number that is some 10% higher than the consumers who were planning to buy the iPhone 4S.
The firm also found that 9 in 10 users hadn't experienced any significant problems with Apple's new mapping software, something that has received a great deal of attention in the press recently.