Apple Reportedly Sourcing Thinner Components for 2013 MacBook Air and MacBook Pro
While Apple's MacBook Air is already extremely thin and the new Retina MacBook Pro has reduced the thickness of the company's flagship notebook by 25%, work naturally continues on new ways to shave even more thickness from future versions of Apple's notebooks.
Digitimes reports that Apple is working with suppliers on a new process that will enable the company to shave 0.15 mm from the thickness of the light guide used to distribute lighting for the company's illuminated keyboard in the MacBook Pro and MacBook Air.
Apple will reduce the thickness of light guide plates for the illuminated keyboards in its MacBook Air and MacBook Pro models from 0.4mm currently to 0.25mm in 2013, according to sources in Apple's supply chain.

Since the current injection process for the production of 0.4mm light guide plates has been optimized to its limit, makers utilizing extrusion processes are likely to win orders for 0.25mm light guide plates, the sources indicated.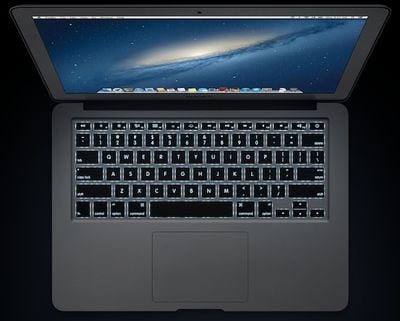 A difference of 0.15mm seems a negligible reduction in thickness that would by itself be essentially imperceptible by users if it were even to translate to slightly thinner overall profiles for the machines, but the company is likely pursuing the reduction for some purpose. Apple is unlikely to significantly alter the overall form factor of next year's MacBook Pro and MacBook Air, but combining small reductions in thickness for multiple components would pave the way for more significant overall reductions down the road.
Kyle Wiens from iFixIt speculates that the added thinness for the keyboard may help prevent the keyboard leaving residual marks on the screen when the laptop is closed.