iPhone 5 Goes on Sale Around the World, First Impressions
The iPhone 5 has been launching across the world this evening, starting in Australia and now extending into Europe. The iPhone 5 will go on sale in the U.S. at 8am local time.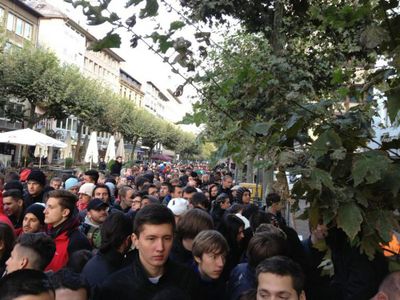 Mac-TV.de posted this image of the Frankfurt, Germany Apple Store shortly before it opens. USA Today reports on large lines in many countries:
Eager buyers formed long lines at Apple stores in Australia and Japan. In Hong Kong, buyers had to sign up online for the chance to pick up the device at a preset time. The first customers were greeted by staff cheering, clapping, chanting "iPhone 5! iPhone 5!" and high-fiving them as they were escorted through the front door.
Meanwhile, one reader from Australia has posted their first impressions of their new iPhone 5 and has been posting more photos in the thread.


Of their new iPhone, thaifood wrote:
The screen size is noticeably taller. The change in aspect ratio feels good. The lack of increase in width seems awkward in photos, but when you hold it you understand how much more comfortable it feels when compared to a wider phone. The dock is so tiny now! I almost missed it when checking out the bottom of the device. The speaker grills also look great in the finished modal. They do not appear as large as photos portray them to be.
Italian site iSpazio.net has posted their own unboxing photos and video.
Those who have pre-ordered can follow their packages with others in our AT&T, Apple (U.S.), UK, Canadian, Verizon or Sprint pre-order discussion threads. The iPhone 5 will become available in the U.S. at retail stores at 8 a.m. local time.