T-Mobile Germany Begins Distributing Nano-SIMs to Retailers
iphone-ticker.de reports [Google translation] that T-Mobile Germany has begun distributing nano-SIM cards to its retailers, likely signifying preparations for the next-generation iPhone launch as the forthcoming device is so far the only one thought to use the smaller Apple-backed standard approved earlier this year.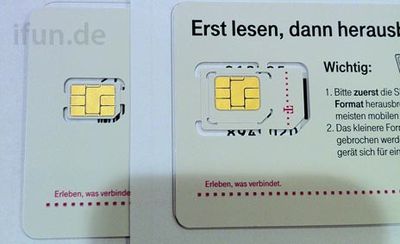 T-Mobile Germany's nano-SIM (left) and mini/micro-SIM (right)
According to the report, materials included with the shipment indicate that the nano-SIMs are to be used to for the "latest generation of smartphones" that will be arriving on the market in the near future.
European carriers were reported in July as having been stockpiling supplies of the new nano-SIMs amid expectations of high demand for the next iPhone and past experience with card shortages when Apple transitioned to the micro-SIM standard for the iPhone 4. At the time, carriers were also said to be testing the new nano-SIMs in partnership with Apple.