Apple Geniuses Serving 50,000 Users Per Day as 2012 Store Visits Approach 300 Million
With Apple opening a pair of new Canadian retail stores this past weekend in Halifax, Nova Scotia and Coquitlam, British Columbia, The Loop shares some fresh data on the company's retail chain performance.
Following the two grand openings this weekend, Apple now has 375 stores worldwide, and Apple notes that those stores have seen nearly 300 million visitors so far this year, or roughly 3500 visitors per store per day. Those numbers obviously vary significantly from store-to-store and day-to-day, but the company clearly continues to attract both new and existing customers to test drive Apple's products, make purchases, and seek support.
While meeting with Apple, I was able to get a few details about how the retail operation is going overall.

According to Apple, the company has seen almost 300 million worldwide visitors so far in 2012. To give you some type of comparison, by July 2011, the population of the United States was estimated to be 311 million people.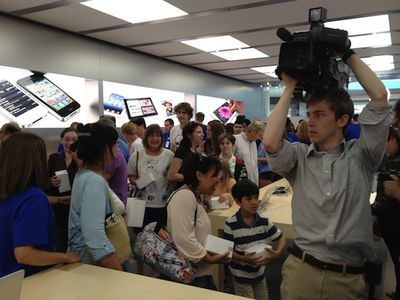 Opening day rush at Apple's new Halifax retail store (Source: The Loop)
On the support side, Apple now reports that the company's retail store Genius Bars are now serving 50,000 users per day, or about 130 per store per day.
Apple has been working hard to meet surging demand for its retail stores, opening new stores on a regular basis and expanding or replacing some of its smaller outdated locations. The company has also been looking for ways to increase Genius Bar availability at its existing stores, increasing multitasking demands on its staff several years ago and even mocking up redesigned Genius Bars that could serve more customers at a time.
Update: The Loop has clarified that the store visitor numbers refer to fiscal 2012 rather than calendar 2012, meaning that the company is seeing closer to 2500 visitors per day at its stores on average.