Apple Testing Redesigned Genius Bar to Increase Capacity
ifoAppleStore posts a photo of Apple's concept for a redesigned Genius Bar for at least some of its retail stores, a move intended to increase capacity at the busy support location. Significantly, the change turns the entire Genius Bar by 90 degrees to provide stools for customers on both sides of the table.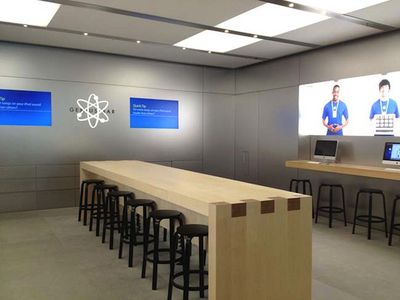 The change also breaks down the barrier between customers and support staff, with Geniuses and customers apparently mingling on the same side of the table. As Apple has tweaked its support procedures so that Geniuses are assisting up to three customers at a time, the company can also more efficiently address customer needs with the new layout. In the example described by ifoAppleStore, the move allows the total number of stools to be increased from 7 to 12, although some of the newly-gained space will still be needed by Geniuses for their work with customers.
This new 90-degree Genius Bar turn solution would be particularly effective at narrow stores where there is limited room for seated customers. The improvement seems to come at the expense of the very popular kids area, with its round, black seats and iPads loaded with children's software. It's not clear if this design change will be rolled out to other stores or if it's simply being tested at this specific store.
As the report notes, the move would sacrifice the kids' tables typically found near the rear of Apple's narrow store designs, certainly a disadvantage for some customers. Apple earlier this year replaced the iMacs at its kids' tables with new iPads, increasing the number of devices available for use and moving to a more natural touch-based exploration concept.