Amazon Releases iPad App for Instant Video Service
Amazon has released an iPad app for its Instant Video renting and buying service and its streaming Netflix competitor, Amazon Prime Instant Video.
The app allows users to download purchased and rented movies and TV shows for offline viewing, as well as stream Prime Instant Video titles when connected to the Internet. Amazon also keeps track of the user's place in a video, allowing it to be resumed at the same point on other supported devices like a TV, Mac or Kindle Fire.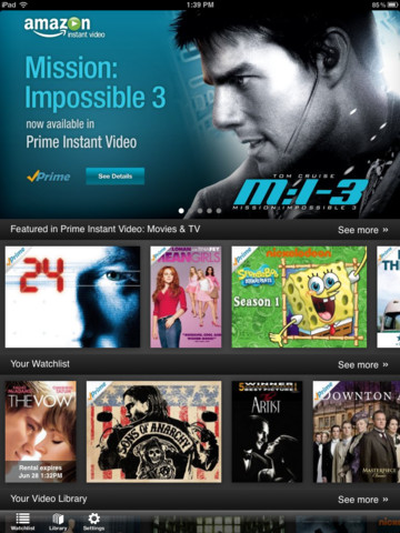 With Amazon Instant Video, you can:

- Stream thousands of titles available from Prime Instant Video at no additional cost with a Prime membership, or watch over 120,000 videos available from the Amazon Instant Video store
- Download purchased and rented videos from Your Video Library
- Shop over 120,000 videos available from the Amazon Instant Video store by visiting Amazon
- Add videos to your Watchlist from a PC, Mac, or Kindle Fire for later viewing on your iPad
- Subscribe to a TV Season Pass by visiting Amazon and episodes will automatically be available on your iPad the day after they air
- Start watching on your iPad, and resume watching right where you left off on a Kindle Fire, PS3, PC, Mac, or hundreds of models of connected TVs and Blu-ray players with Amazon Whispersync.
Engadget says in a mini-review that "Amazon is really coming after Netflix with this one" and that the app is polished and runs smoothly.
Amazon Prime is available for $79/year and offers discounted overnight shipping and free two-day shipping on nearly every item that Amazon sells, as well as thousands of on-demand streaming movies and TV shows and Kindle Books.
Yesterday, Amazon also updated its Cloud Player service with an iTunes Match-like matching feature. This is a significant upgrade, as Amazon's cloud music offering previously required users to upload all their music which could take hours or days depending on the size of the user's music library.
Amazon Instant Video is available free on the iPad via the App Store. [Direct Link]