Apple Approves Mac App Store App with 'Retina Graphics'
As noted by The Next Web, Apple late yesterday approved an update to the Mac app FolderWatch [Mac App Store] that lists "Retina graphics" as one of the changes.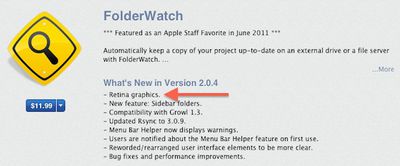 The report suggests that the application's developer may possibly have been given advance notice of Retina Mac displays by Apple, but we believe that to be unlikely and assume that the developer included the improved graphics based on circulating rumors and Apple's existing HiDPI modes quietly built into its recent operating system versions. Supporting the latter speculation, the developer issued a Tweet earlier today indicating that the "Retina" claim simply refers to the HiDPI mode already seen in OS X.
Still, Apple approved the update with "Retina graphics" listed as the first bullet point in the "What's new" section regarding the update, suggesting that the mention was at least seen by reviewers who approved the update as it was submitted. Consequently, the move is gaining significant attention as a potential signal from Apple itself that Retina-capable Macs are on their way next week.
Of course, it is unlikely that even Apple's Mac App Store reviewers have been briefed on upcoming Mac capabilities, so we hesitate to make too much of the news at this point.
Apple is expected to introduce a Retina 15-inch MacBook Pro at a minimum next week, with the feature expected to make its way into Apple's other display-equipped Mac models over time.