Prototype Original iPad with Dual Dock Connectors Surfaces
Ever since its initial introduction in early 2010, the iPad has offered a single dock connector oriented in portrait mode. But a rumor just prior to that introduction had indicated that the device would include a second dock connector designed for landscape orientation, and patent applications filed on the design of the iPad similarly showed two dock connectors.
We've heard that Apple did originally plan to use dual dock connectors but scrapped the idea in favor of simplicity with just a single port, and a photo of a rear shell with holes for two connectors that surfaced in late 2010 indicated that Apple was indeed at least prototyping a dual dock connector design.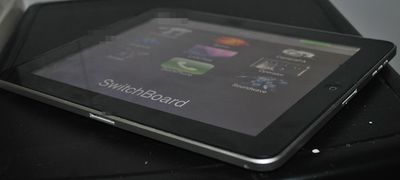 Further evidence of Apple's work on the dual dock connector design has now surfaced in a new eBay listing for a prototype 16 GB original iPad that contains two dock connectors, one each in portrait and landscape orientations.

Landscape dock connector on prototype iPad
The prototype iPad is in nearly functional condition, although it appears that minor repairs to the touch sensing capabilities are needed. While it is possible that a second dock connector could be faked with appropriate tools and spare parts, extensive documentation on the listing in the form of detailed photos appears to be consistent with the device being a genuine Apple prototype. Several components carry earlier part numbers and copyright dates than seen on corresponding components in the released original iPad, and the device is running Apple's SwitchBoard diagnostic software.


The device does not contain the "iPad" name printed on its shell, instead including a prototype identification number in a number of locations on the rear shell and front bezel. The regulatory text section on the rear of the prototype includes "X" placeholders for the device's battery rating, and also includes a placeholder listing for a Broadcom Wi-Fi chip included in the device.
The starting bid on the listing for the prototype iPad is $4,800, and the auction ends shortly after midnight Eastern Time tonight.