Steve Jobs Appeared in Apple's Original 1984 'Blue Busters' Video Spoof of 'Ghostbusters'
Last week, Network World shared a long-lost internal Apple video from 1984 featuring a brief cameo by Steve Jobs in the role of President Franklin D. Roosevelt. Given the early 1980s production value and Apple's alternate universe take on its battle with IBM, the video naturally sparked an array of reactions from around the Apple community,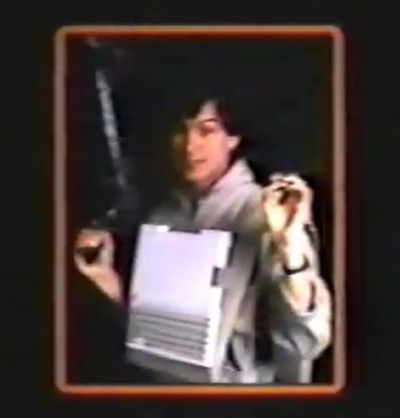 But now another internal Apple video from the same timeframe is gaining some renewed attention for its inclusion of Jobs in another cameo appearance. The video, entitled "Blue Busters", is a spoof of the movie "Ghostbuster" using a reworked version of the film's theme song. And while edited clips of the video including an appearance by Steve Wozniak have been floating around for some time, Network World earlier this week posted an uncut version of the video which includes Jobs' brief appearances.
Jobs' cameos appear at the 3:00 and 4:04 marks in the video, while Wozniak makes an appearance at 2:21.
Apple's "1944" and "Blue Busters" videos demonstrate the company's commitment to taking on IBM in the corporate world, an effort that saw Apple making forays into printers and other peripherals in an attempt to gain a foothold with businesses. But between expensive machines and a lack of software, Apple experienced only limited success despite some devoted fans of its innovations.