J.C. Penney Hires Key Apple Executive from Retail Store Design Team
Since taking the helm of department store chain J.C. Penney last November, former Apple retail chief Ron Johnson has rebuilt much of his new company's executive team, in many cases bringing in associates he had worked with at Apple or in his earlier stint at Target. Until now, Johnson appears to have avoided tapping Apple's staff directly, bringing in Apple veterans who had already left the company for other jobs.
But as announced in a J.C. Penney press release today, Johnson has expanded his executive team again, this time hiring Ben Fay, a key member of Apple's retail store design team to help lead the next-generation of department store designs.
"Ben is an incredibly creative professional with extraordinary leadership skills. Having worked with him over the last 12 years, I am delighted to see Ben step into this new role at jcp," said Johnson. "His design influence has made the Apple stores highly regarded retail destinations around the world, and I am excited to have Ben place his own mark on jcp as we re-imagine the jcpenney store of the future."
According to his LinkedIn profile, Fay spent eight years as a senior director at Apple, overseeing retail store and corporate office design. Prior to arriving at Apple itself, he spent four years at architecture firm Gensler, where he focused on Apple's retail projects. With that résumé, Fay clearly played a key role in the development of the Apple retail store concept alongside Johnson and other members of the team.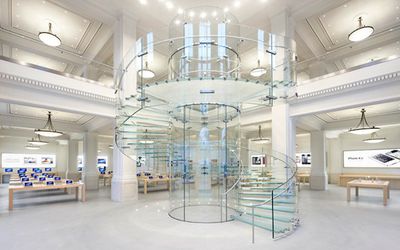 Interior of Apple's Amsterdam retail store
Fay's move to J.C. Penney comes just as former Dixons Retail CEO John Browett
begins work at Apple
as Johnson's replacement. Browett was named Apple's senior vice president of retail in January, but did not officially start with the company until last week.
Browett brings an international flavor to Apple's retail effort, with international stores having been an increasing focus for Apple in recent years, a trend that is expected to continue as Apple works to expand its global reach. The company has also been placing emphasis on larger, iconic stores to help promote the company's brand while providing more space to serve the growing number of Apple customers.