Apple Stock Trading Halted Briefly on Sudden 9% Drop
BusinessInsider reports some strange activity on Apple's stock today. Trading was halted due to an abrupt drop of over 9%.
The stock crashed 9% to $542.80 before trading was stopped. When the stock started trading again, it opened at $598.39
Trading has since resumed, but there has been no clarification on what happened. StreetInsider speculates that it was "an apparent errant trade".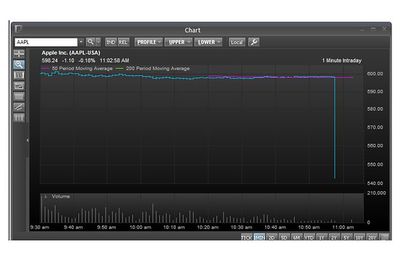 Image of drop from WSJ
With news of the dividend and record iPad sales, Apple's stock has been at all time highs in the past week.
Update: Bloomberg pinpoints the issue to a single trade for 100 shares executed by Bats Global Markets Inc.
A single trade for 100 shares executed on a Bats venue briefly sent Apple, the world's most valuable company, down to $542.80, triggering a circuit breaker that paused the shares. The order was executed at 10:57 a.m. New York time. Two more transactions, which sent the stock back above $598, were made before the halt. The stock stayed around that level once trading resumed.