FAA Taking a 'Fresh Look' at Digital Device Use During Takeoff and Landing
The U.S. Federal Aviation Administration is reexamining regulations banning the use of digital devices like the iPad or Amazon Kindle during taxi, takeoff and landing of commercial aircraft. Passengers are banned from using electronics while the aircraft is under 10,000 feet, but pilots and crew are allowed to use their iPads during all phases of flight. This is especially important because many airlines are replacing pilot flight bags with iPads to reduce weight and save money.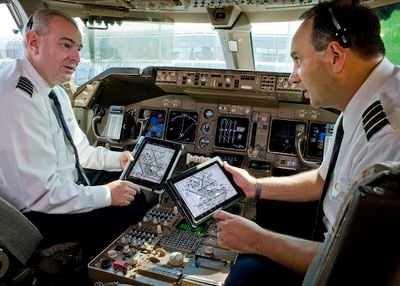 Nick Bilton, writing for the New York Times:

When I called the F.A.A. last week to pester them about this regulation — citing experts and research that says these devices could not harm a plane — the F.A.A. responded differently than it usually does. Laura J. Brown, deputy assistant administrator for public affairs for the F.A.A., said that the agency has decided to take a "fresh look" at the use of personal electronics on planes.
Good news for some, but there are some peculiar quirks to the FAA's bureaucratic approval process. Under current guidelines, individual tablet models will need to be tested separately -- on each different aircraft model. The iPad, iPad 2 and iPad 3 will be individually tested, each on a separate flight, on an empty plane, for the Boeing 737, 747, 757, etc. Smartphones are not being considered for approval, which will be good news for those hoping to keep the skies a relatively quiet place.

The F.A.A. said it is exploring how to bring together electronics "manufacturers, consumer electronic associations, aircraft and avionics manufacturers, airlines, pilots, flight attendants and passengers" to figure out how to allow greater use of these electronics on planes. That's a lot of people, organizations and bureaucracy to juggle. Plus the money to do this testing is going to have to come from somewhere.
We are a long ways off from seeing iPads in use during takeoff and landing, but the fact that the FAA is willing to consider changing the regulations is very promising.