DisplayMate Praises New iPad Screen Sharpness and Color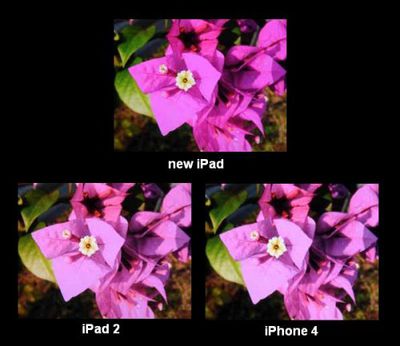 Comparison
, though color differences hard to capture in screenshots
DisplayMate
has
published
an extensive "shoot out" between the new iPad, the iPad 2 and iPhone 4. Aside from the much discussed resolution improvements of the 3rd Generation iPad, DisplayMate also confirms that the new screen also has much better color reproduction than the previous generation model.
Apple has taken the very good display on the iPad 2 and dramatically improved two of its major weak points: sharpness and color saturation – they are now state-of-the-art.
...
But there's more…the new iPad's picture quality, color accuracy, and gray scale are not only much better than any other Tablet or Smartphone, it's also much better than most HDTVs, laptops, and monitors. In fact with some minor calibration tweaks the new iPad would qualify as a studio reference monitor.
Besides the color reproduction, they found the new iPad to be slightly less reflective than the iPad 2, but still felt there could be much improvement in this category.
They suggest that with the accuracy and picture quality, the new iPad could find itself used in many new professional level applications.