Last year, iFixit released a kit to install a second hard drive inside the 2011 Mac Mini. The install was fairly straightforward, but some Macs are a lot trickier to upgrade.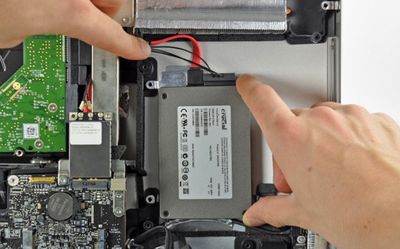 The company has now released a hard drive install kit for the mid-2011 21.5" and 27" iMacs.

We've combined all the components you need and set the price at $69.95. And you'll be able to use the clearest, bestest instructions on the planet to perform this install –– for free. Check out the 21.5" iMac and 27" iMac dual hard drive installation manuals to get a feel for the install process; the instructions are as clear as can be, but the procedure is still pretty involved since you have remove the LCD to get inside.
The kit includes the required SATA cables as well as the appropriate mounting hardware to install the second drive. As the LCD needs to be removed to access the interior of the iMac, the install isn't for the faint of heart, though iFixit does include suction cups to pull the glass off.
The kit is available for $69.95 from iFixit in 21.5" and 27" varieties.