As noticed by several users running the developer preview version of OS X 10.8 Mountain Lion, Apple is no longer including its X11 application for running software through the X Window System interface. A popular option for scientists and others seeking to run specialized UNIX software both on local machines and across networks, X11 has been available on OS X for a number of years and has been included as a default install since Mac OS X Leopard.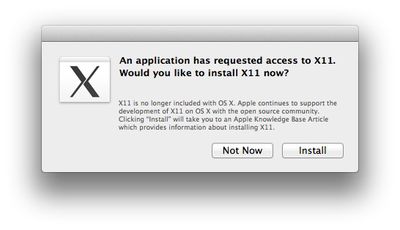 The X Window System has an extensive open source history, with development on the Mac side being handled under the XQuartz project. Apple's X11 application has been based on this effort, although as with many open source projects bundled for use in commercial software, X11 has generally been somewhat behind the latest XQuartz releases. The current version of X11 is 2.6.3, while XQuartz is currently available in version 2.7.0.
With Mountain Lion, Apple seems to eliminating its dedicated support for the X11 application, instead redirecting users to the open source XQuartz project, which it will continue to support.