Apple Grabs 19% of U.S. Consumer Electronics Dollars in Holiday Quarter
Apple captured "19 percent of all sales dollars" of consumer electronics sales in the U.S. during the holiday quarter of 2011 according to NPD. Not coincidentally, the holiday season was also the best quarter in Apple's history.
Not only was Apple by far the most successful consumer electronics brand for the second year in a row, Apple Retail has the third most revenue of any electronics retailer, coming in behind only Best Buy and Walmart. Apple was the only brand in the top five to post a sales increase from 2010, with receipts for 2011 rising more than 36 percent in the U.S. on the back of the iPad 2 and iPhone 4S.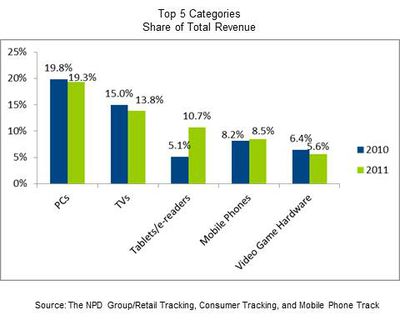 Tablet sales have more than doubled as a share of consumer electronics dollars, going from 5.1 to 10.7 percent. That's especially good news for Apple -- the iPad's 40 million units sold made up nearly 60 percent of tablet sales in 2011.
HP, Samsung, Sony, and Dell all saw declines in sales from 2010 to 2011, according to NPD's report, with Sony and Dell taking the biggest hits.