Apple Pulls All 3G Devices Except iPhone 4S from German Online Store Following Motorola Patent Win [Updated]
Bloomberg reports that Apple has removed all non-iPhone 4S devices with 3G technology from its German online store following a win by Motorola in the ongoing patent dispute between the two companies. The devices, which include the 3G iPad 2, iPhone 4, and iPhone 3GS, remain available from Apple's physical stores and other resellers in the country.

iPhone 4 and iPhone 3GS removed from Apple's German online store
The removal is related to enforcement of a
December injunction
focused on a Motorola patent on 3G GPRS technology.
"While some iPad and iPhone models are not available through Apple's online store in Germany right now, customers should have no problem finding them at one of our retail stores or an authorized reseller," [Apple spokesman Alan] Hely said.
Beyond the 3G issue, Motorola has also won an injunction against Apple related to its iCloud services. Motorola has yet to seek enforcement of that ban, but could do so if it elected to post a $132 million bond to help cover penalties if it ultimately loses the case on appeal.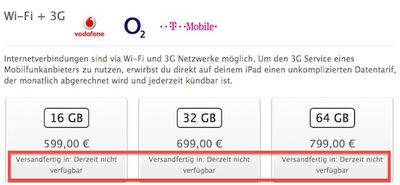 iPad 2 Wi-Fi + 3G models removed from Apple's German online store
Apple is appealing both decisions, but has apparently agreed to remove the numerous 3G devices from its German online store while the process remains ongoing.
Update: SlashGear reports that Apple has issued a statement claiming that the 3G GPRS injunction has already been suspended and that the affected iPhone and iPad devices will return to the German online store "shortly".
Apple has been granted a suspension of the German injunction against 3G-enabled iOS devices, with the iPad WiFi + 3G, iPhone 4 and other gadgets back on sale through the company's online store. "All iPad and iPhone models will be back on sale through Apple's online store in Germany shortly" the company told us in a statement. "Apple appealed this ruling because Motorola repeatedly refuses to license this patent to Apple on reasonable terms, despite having declared it an industry standard patent seven years ago."
Update 2: The affected devices are now available again in the German online store.