ZFS Comes to OS X Courtesy of Apple's Former Chief ZFS Architect
Apple's flirtation with ZFS, the file system backed by Sun, has been well-documented with rumors and speculation dating back to 2006. The interest was fueled in mid-2007 by a claim by Sun CEO Jonathan Schwartz that ZFS would supplant HFS+ as the file system for Mac OS X Leopard. While ZFS did not materialize in Leopard, Apple clearly continued to work on the project, with claims of some support appearing in marketing materials for Mac OS X Server Snow Leopard.
Optimism surrounding that development was apparently premature, however, as all mentions of the file system later disappeared from Apple's site amid claims that licensing issues had led the company to scrap the project. By late 2009, Apple had shuttered even its open source ZFS project site, indicating that it had abandoned all work on the project.
In March of last year, Ars Technica posted a lengthy profile of Don Brady, the 20-year Apple engineer who had helped transition to the HFS+ file system for Mac OS X and also headed up Apple's internal ZFS team from 2006 until it was disbanded in 2009. As the report notes, ZFS offers a number of advantages over HFS+, including a 128-bit structure to address large file and volume sizes, as well as features for simplifying data management and increasing data integrity such as copy-on-write technology to preserve the file system structure should errors or failures occur while new data blocks are being written.
At one time, there was a lot of hope that Apple might transition from HFS+ to ZFS as a more modern replacement. In particular, ZFS's automatic snapshot feature was believed to be the perfect fit for Apple's Time Machine backup tool. When Snow Leopard was first announced in 2008, it was slated to have full read-write ZFS support, at least in the server version.

But when WWDC 2009 rolled around, all mention of ZFS support was scrubbed from Apple's website. A patent infringement lawsuit was still pending between NetApp and Sun, with NetApp claiming that it held patents on copy-on-write. Furthermore, Sun's CDDL open source license was also believed to make ZFS incompatible with Mac OS X, and that Apple couldn't reach suitable license terms with Sun.
With Apple shutting down its ZFS project in 2009, Brady soon left the company to form his own venture, Ten's Complement, with a plan to bring ZFS to the Mac. Brady and Ten's Complement have been working on the project since 2010, with an extensive beta program having been underway for quite some time, and it now appears that the company is ready to begin rolling out its ZFS products under the ZEVO name. First off the line is the Silver Edition, which is now available for $19.95 and brings some of the basic advantages of ZFS to Mac OS X.
Z E V O's Silver Edition brings you sophisticated ZFS storage technology in an easy-to-use solution.

It's ideal for those wanting modern, reliable storage that is simple to set up, validate, and manage. Our Z E V O Storage Setup Assistant makes setting up a single disk for Z E V O a snap. In a few simple steps you'll be up and running.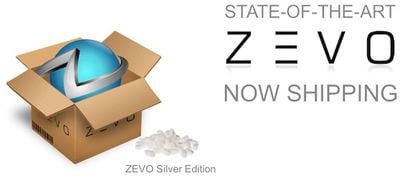 The company will soon be releasing its more advanced products, including the $39.95 Gold Edition with such features as Time Machine-like rotating data snapshots and data redundancy. A forthcoming Platinum Edition carrying additional features such as RAIDZ support, data deduplication, and an advanced management utility is set to launch this spring, with pricing yet to be announced. Finally, the company is also working on a Developer Edition that will offer a combination of GUI and command line interface tools for complete system control.
Ten's Complement is not the only group to still be working on bringing ZFS to Mac OS X, as the MacZFS open source project continues to build on the foundation laid by Apple and Sun. But Ten's Complement seems to be the first to bring ZFS to the Mac in a commercial package to facilitate implementation and maintenance of the file system for users looking at options for securing the integrity of their data.