CES 2012: Swivl Motion Tracking Stand and Magisto Automated Video Editing App
Several Apple-related apps and accessories are being previewed at CES 2012. Here are a couple of the more interesting ones we've run across.
Swivl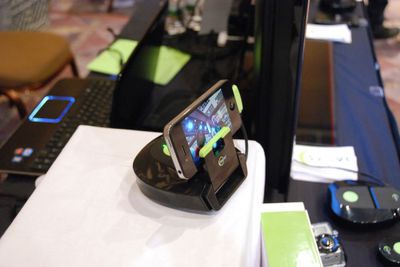 Swivl is a motion tracking mount for your iPhone. We previously covered the announcement of the product back in November.
The motorized mount registers the movement of the remote control (which you can attach to your body) both vertically and horizontally. Using infrared and RF sensors, the mount actively moves the iPhone to keep its camera centered on the subject. It could be used for activities such as video blogging and FaceTime.
See it in action:
Swivl
will cost $159 and is available for pre-order now and will ship in one to two months.
Magisto


Magisto is a new video app that debuted in the App Store this week that features automated editing of your raw video recordings. Magisto analyzes your videos to enhance them with music, effects, and transitions. The end result can then be shared with your friends.
Users can record a new video in the app or choose existing videos in the Camera Roll for processing. After specifying a title and soundtrack and uploading the video to Magisto's servers, the company's software will automatically select the most interesting clips and apply transitions and effects to create a polished final video.
Magisto
is free and requires iOS 4.0 or higher. [
App Store
] The company plans to later introduce a premium version that offers HD video and more features.