Apple Seeds OS X 10.7.3 Build 11D36 to Developers
Squeezing in one last release before Christmas, Apple today seeded developers with an updated version of OS X 10.7.3. The new version, known as Build 11D36, comes with no documented known issues and is said to include iCloud Document Storage, Address Book, iCal, Mail, Spotlight and Safari as focus areas for developer testing.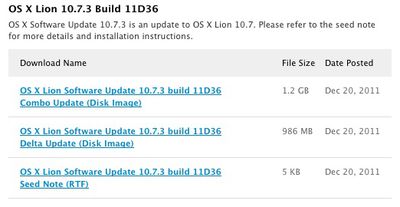 The delta version of the new build for updating from OS X 10.7.2 weighs in at 986 MB, while a combo version good for updating from any previous version of OS X Lion weighs in at 1.2 GB.
OS X 10.7.3 will be Apple's next free maintenance update for OS X Lion users. The current version, OS X 10.7.2, was released in mid-October and brought support for Apple's new iCloud services.