Apple Now Suing Samsung over Tablet and Phone Case Designs [Updated]
While Apple and Samsung remain locked in a war involving numerous lawsuits related to alleged patent and design infringement in their tablet and smartphone products, Apple has now brought cases for the devices into the mix. As reported by Bloomberg, Apple disclosed during an Australian court hearing that it has sent a notice of infringement to Samsung over the company's tablet and smartphone cases, and will be pursuing legal action.
Apple Inc., which on Dec. 9 lost a bid to keep Samsung Electronics Co.'s Galaxy 10.1 tablet out of Australia, claims the case for the device and cases for Samsung phones infringe its patents and registered design.

Apple issued the notice of infringement to Samsung in Australia over the cases, and will file a statement of claim, Apple's lawyer Stephen Burley said at a hearing in Sydney today. Samsung's lawyer Katrina Howard said at the same hearing the company was served with the notice that the cases infringe at least 10 patents.
It is unclear exactly what Samsung cases Apple is targeting with its new infringement claims.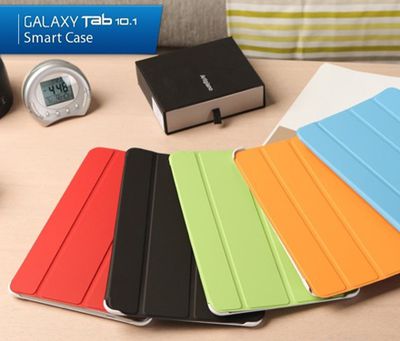 Samsung did, however, find itself amid controversy earlier this year after accessory company Anymode offered a "Smart Case" for the Galaxy Tab 10.1 that closely resembled the iPad 2 Smart Cover. While the product initially appeared to carry Samsung's stamp of approval and came from a company with familial connections to Samsung, a blog post issued by Samsung quickly clarified that the product was not in fact approved by Samsung and was immediately pulled before it had begun selling.
But given that the Smart Case was not directly produced by Samsung, it does not seem that Apple's claims of infringement would relate to that product. Samsung currently offers several styles of cases for the Galaxy Tab 10.1, and it is not immediately clear which designs Apple might consider to be infringing upon its own case designs.
Update: Samsung has released an official statement on the issue, noting that the term "case" was misinterpreted in early media reports as referring to protective case accessories. In fact, the term was referring to the external design of the devices themselves.
We would like to clarify that the additional claims filed by Apple in Australia do not relate to protective case accessories, as has been indicated in some media reports. In fact, the intellectual property asserted are patents related to the utility of mobile devices and design rights related to the external appearance of devices.

We are confident we can demonstrate that the GALAXY range of devices is innovative and distinctive, and will take all available measures to ensure our products remain available to consumers in Australia.