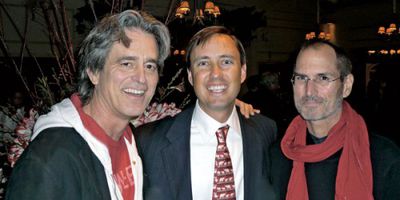 From left: Bobby Shriver, Jurvetson, and Jobs in 2007


Venture capitalist Steve Jurvetson, who worked with Steve Jobs at NeXT and Apple, writes in Businessweek about his memories of Jobs. He shared one story in particular -- from the NeXT years -- that would foreshadow Steve's vision for the future:

When I invited Jobs to take some time away from NeXT to speak to a group of students, he sat in the lotus position in front of my fireplace and wowed us for three hours, as if leading a séance. But then I asked him if he would sign my Apple Extended Keyboard. He burst out: "This keyboard represents everything about Apple that I hate. It's a battleship. Why does it have all these keys? Do you use this F1 key? No." And with his car keys he pried it right off. "How about this F2 key?" Off they all went. "I'm changing the world, one keyboard at a time," he concluded in a calmer voice.
See Businessweek for Jurvetson's full piece.