Sprint Opens iPhone 4 Pre-Orders, iPhone 4S Follows Tomorrow
Sprint has updated its website with information on its iPhone offerings, beginning immediate pre-orders of the new 8 GB iPhone 4. Pre-orders for the iPhone 4S start tomorrow, in line with the schedule set by Apple and being followed by other carriers in the first round of launches.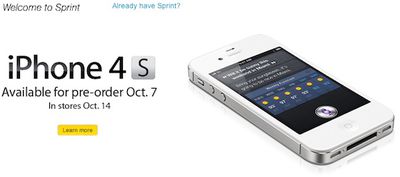 In its press release announcing the iPhone launch, Sprint touts its service plans offering unlimited data, a feature not offered by other U.S. iPhone carriers.
"Our unlimited data plans are the perfect fit for iPhone customers," said Sprint CEO Dan Hesse. "Sprint's unlimited data plans provide more value than metered plans from other carriers. Our customers can take advantage of the innovative features of iPhone without worrying about overage charges or surprises on their bill."
Sprint's plans include unlimited data and messaging (text, photo, and video), as well as unlimited mobile-to-mobile calling to and from any mobile phone in the United States. Three different plans with varying amounts of calling time are available:
- 450 Minutes: $79.99/month
- 900 Minutes: $99.99/month
- Unlimited: $109.99/month
A mobile hotspot option is also available for $29.99 per month, offering up to 5 GB of data for hotspot services through the device, which can support up to five Wi-Fi connections simultaneously.


As on other carriers, Sprint is offering the iPhone at the following price points, all with two-year agreements:
- 8 GB iPhone 4: $99.99
- 16 GB iPhone 4S: $199.99
- 32 GB iPhone 4S: $299.99
- 64 GB iPhone 4S: $399.99
As with Apple, iPhone 4S pre-orders through Sprint will begin at 12:01 AM Pacific time tomorrow.